Last Updated on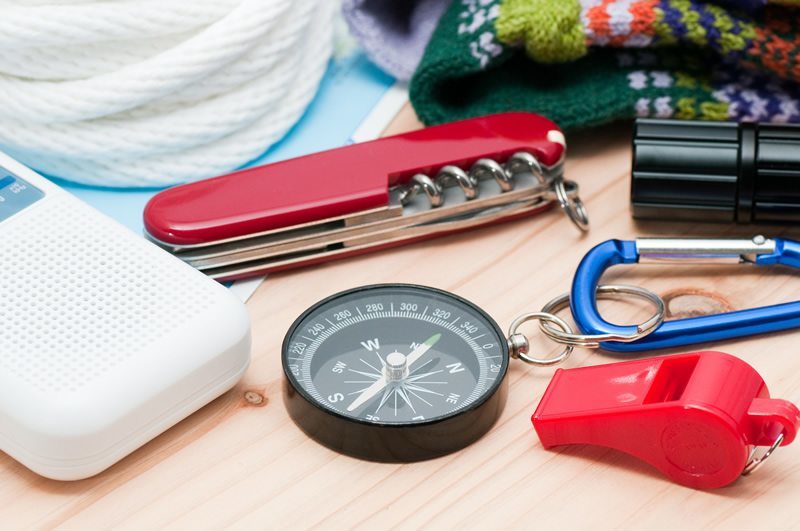 These cool camping gear reviews list 5 items you absolutely must have if you're at all serious about camping. They're all reliable in a pinch, sturdy enough to go rolling down a hill without breaking, and easily worth more than they cost. They're also a pretty eclectic bunch of instruments, so they aren't really meant to be compared to each other. Still, they are all must-haves when camping—it's just a question of which one is priority for you when you pick which one to get first.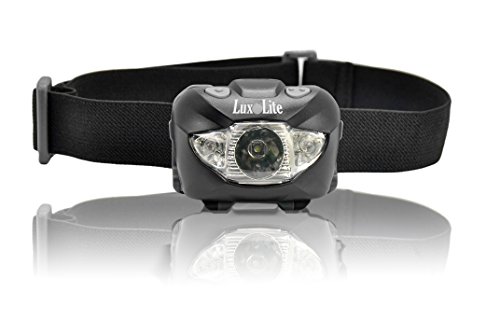 This 160-lumen LuxoLite headlamp offers several modes and has a red light for night vision. A high brightness light mode lets you shine your beam as far as 360 feet and lasts for up to 30 hours. The modes also include an SOS mode with flashing lights for emergency situations. It comes with a headband and an IPX6 waterproof rating.
Pros:
Very bright at highest setting
Very good build quality
Headband is comfortable enough to forget about
Cons:
Tends to concentrate light in a straight beam instead of diffusing it in an even "flood", which may be problematic in some situations
This is a surprisingly bright headlamp given its size and the fact that it only uses 3 AAA batteries. When they say 160 lumens at the highest setting, they mean it: you can see the beam from this thing even in daylight. It's also quite beautifully made and looks and feels as durable as it's advertised to be.
It can be adjusted via a tilting mechanism and has a very comfy but secure headband. Then there's the fact that it's IPV6 waterproof, so you don't need to worry about it breaking if the HVAC spits something at you. That's a lot of value for just $26, so it easily makes this list as one of the best camping/all-around utility tools available.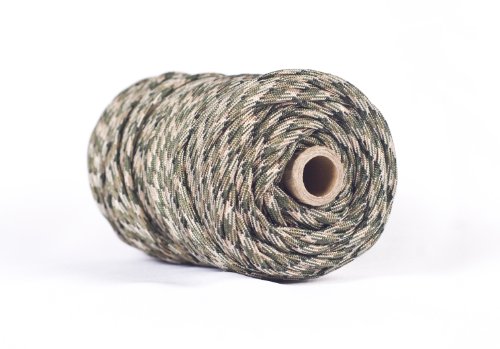 This paracord meets MIL-C-540-H Type IV standards and manages to be 200lbs stronger than the usual 550lb cord despite adding only 1/32in of thickness. This product is made in the USA and comes in an un-spliced length.
Pros:
Extremely strong
Comes in a lot of colors
Easy to tie knots with given its thickness
Cons:
Can still stretch over time (by up to 30%)
Frays faster than some other cord types once you do manage to cut it (if you don't burn-seal the ends)
This paracord is an amazing value for about $17 per 100ft. Advertised as having 750lb strength, it really does live up to that claim once you put it through its paces—you can drag a steer behind your pickup with this stuff and have the part of your truck where you tied the cord give out before the cord itself does. It comes in a wide range of colors too and knots a bit more easily than the common 550 cords, being a touch thicker.
Like all nylon paracord, though, it can stretch gradually, but stays taut for much longer and is overall more durable than most other cords you can get. It's a great emergency supply for camping in case you need to tie down a shelter, improvise a raft or stretcher, or even just replace the worn-out laces on your hiking boots.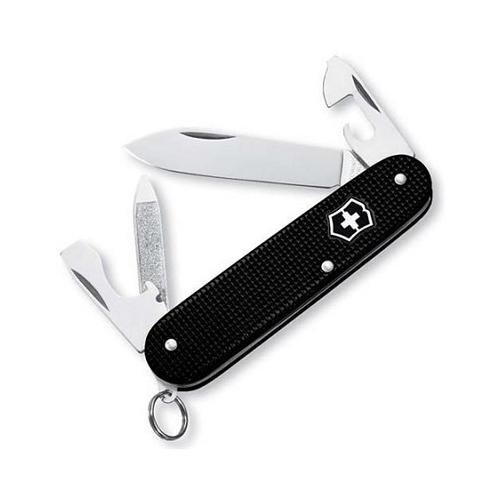 This Swiss Army Cadet Knife weighs in at just a tenth of a pound and measures 3.25in when closed. It carries a large blade of more than 2 inches, a can opener with a screwdriver (small), a wire stripper, a bottle opener with a screwdriver (large), a nail file with a nail cleaner, and a key ring.
Pros:
Very thin and comfortable in the pocket
Versatile – can be used for camping as well as EDC
Handsome aluminum scales give it sufficient elegance to serve as a gentleman's knife
Cons:
File rubs the main blade a little when slid out/in on some units
Let's get one thing straight: it may not be as large or as heavy-duty as most of the serious camping/hiking multi-tools, or have the hand made detailing of a proper bushcraft knife but the Cadet is still a beautiful thing to have whether you're camping or in the city. It's so small that you can forget about it in your pocket, is strong enough to withstand a fair bit of abuse, and is good-looking enough that people won't look at you strangely if they see you with it in the office.
Even if you get another multi-tool for the big jobs, it's more than worthwhile (and easy) to carry this one along too in case something happens requiring another blade.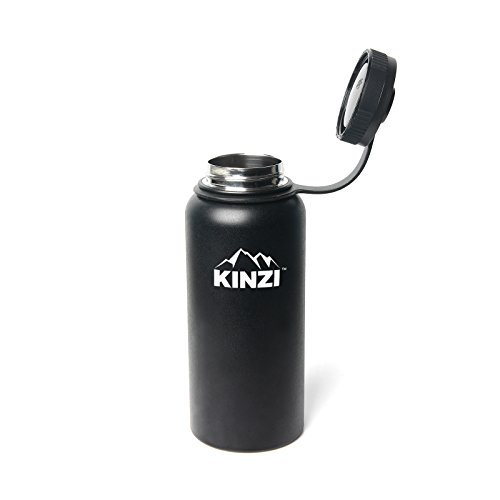 This water bottle uses a double-walled stainless steel design to keep drinks hot for 12 hours or cold for double that time. A wide, 2.1in mouth allows you to slip ice cubes and bottle brushes into it easily and a matte black finish gives it fingerprint resistance and added "grippability". It is BPA-free and has a lifetime warranty.
Pros:
Very sturdy construction
Great insulation
Easy to clean
Cons:
A bit on the heavy side due to its heavy-duty construction
This is the perfect thing for holding your hot or cold drinks on camping trips or hunting excursions. With its double-walled, vacuum-sealed stainless steel design, this thing really does keep drinks hot or cold for the length of time its manufacturer advertises—a huge comfort when you don't want to keep making coffee over the campfire.
The fact that it keeps drinks so cool for so long is a great thing too when you're camping in summer, as you'll be glad for that cool water you poured into it last night when the midday sun comes out. Ice cubes last all day in it. It's also amazingly sturdy considering it only costs about $30.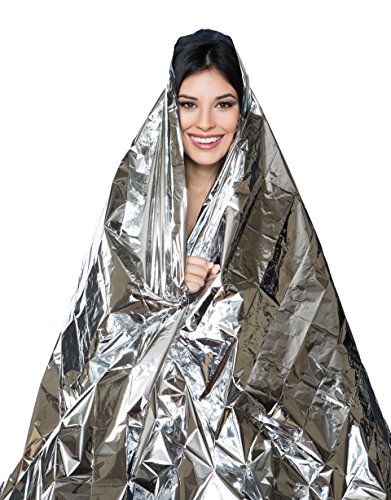 Available in packs of 10, these emergency thermal blankets are made of weatherproof material that helps keep 90% of body heat in the wrap. Each one is 54×84 inches and packed into a lightweight, individual zip bag.
Pros:
Genuinely weatherproof (waterproof)
Great insulating capacity
Large but thin, so they don't get too heavy
Cons:
These blankets are great emergency supplies for camping since they can be used for so many things. You could use one as a makeshift ground cover in case you're worried about rocks damaging your tent's floor, for example. They can be used as rain ponchos too or even as light reflectors for signaling someone far away.
They can be used as shelter sides if you don't have a tent and can be used as blankets if the temperature drops too far too fast. They're surprisingly durable and lightweight, so you definitely wouldn't suffer from packing one or two in your gear. They also cost only about $9 per 10-pack, which is a great value.
Essential Equipment Roundup
As we said at the start, it's impossible to compare any of these because they're in completely different categories. What you should get will depend on what's most useful to your particular situation.
If you're constantly fighting with the cold on your trips, for instance, the emergency blankets might be high on your priority list.
If your usual problem has to do with lighting, on the other hand, the LuxoLite headlamp should be your first buy.
These are all cool camping gear products that would be good to have available if you camp frequently so that you're ready for any situation.