Yeti coolers are some of the best made and world renowned coolers around, perfect for barbecuing, camping, fishing, and so much more. Coolers should be an essential part of your gear list.
However, although people want the performance of a Yeti cooler, they don't always want to have to fork out several hundred dollars for one. That's a huge expense for a cooler, especially if it's a gift and even if you do need one that performs well.
Yeti brand coolers look great, and are said to have ice retention capabilities of around 10 days. However you need a fair bit of disposable income if you're going to spend that much on a cooler. Don't worry though! If you're on the look out for coolers like Yeti but cheaper, then you might just find what you're looking for in this article.
Here, we review 3 of the most popular coolers like Yeti all for under $200. Take a look at the pros and cons and see which one sounds right for you.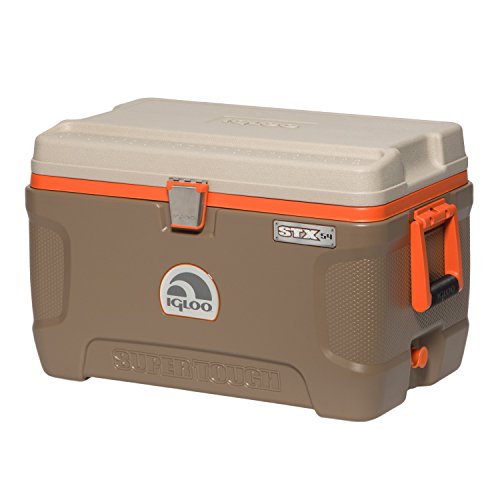 This cooler is 54 quart, with side handles and a heavy duty design. It is said to hold ice for up to 4 days at 90 degree Fahrenheit, although some claim that it has retained ice for much longer. This will largely depend on the temperature, what sort of ice you're using, and what you're doing when you use the cooler. The orange and brown color is nice and makes it easy to see the ice.
The lid can be used for normal sitting use, although extreme weight may warp it, so you'll need to be careful. Let's take a look at the pros and cons:
Pros
Extremely cost effective in comparison to Yeti
Holds ice well in extreme heat
Well built cooler and nice design
Maintains performance with continued use
Cons
Not quite as rugged as Yeti
The Igloo Super Tough cooler will hold ice for days in extreme heat, which is why it matches up to Yeti so well. The latch and hinges are great quality, and the cooler has an overall great design.
This is a cooler that is well built, although probably not as rugged as a genuine Yeti cooler. You can use this cooler several times a month and it will continue to perform well over time. It's perfect for use on fishing boats, but can have a variety of uses on top of that. You can even sit on it if you like, but you just need to be mindful of the weight that it's bearing. There are many 5 star reviews for this cooler on the likes of Amazon so we're not the only ones who think it matches up to the Yeti well, making it a very good investment for the price.
2. Vibe Element 45Q Cooler – One of the best Yeti like coolers out there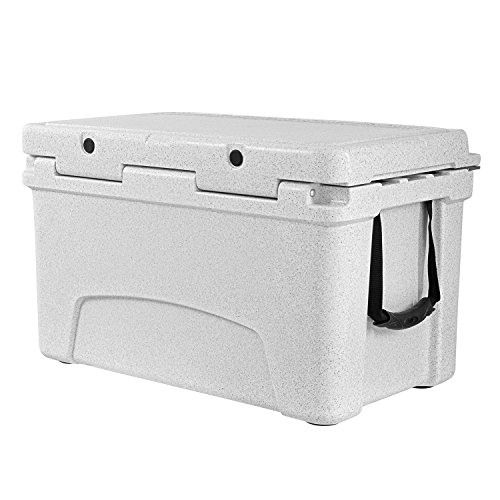 You can purchase this cooler in cool alpine grey, and if you're lucky you can get the version in camouflage too. The cooler has built in bottle openers, which is a nice additional feature and can save you some hassle on your camping/fishing trip. There's also an altitude pressure release valve if you need to use it. Let's take a look at the pros and cons.
Pros
Can hold ice just as long, in some cases even twice as long as Yeti
Extremely cost effective for the performance and design
Sturdy handles, great design
Go 7, 8, 9 days with ice, maybe more
Looks great
Features built in bottle openers, unlike many coolers out there
Cons
Large on the outside, a little smaller inside
Some people say this works better than a Yeti, and we're inclined to agree. The Vibe Element is more than worth the cost at less than half the price of a Yeti cooler for the performance you will get. Why spend several hundred on a Yeti when you can get a cooler that performs like this for less than $200?
Even those who have had Yeti coolers in the past say that this performs just as well if not better than one. The only qualm you may have with this cooler is that it is large on the outside, and probably a little smaller than you would expect on the inside. That's down to the thickness of insulation built in.
If you do need plenty of room internally see these wheeled alternatives. The Vibe still works a treat and you'll no doubt be impressed with the performance and additional features like the bottle opener.
3. Palm Coolers PC 65 – A bear resistant Yeti style cooler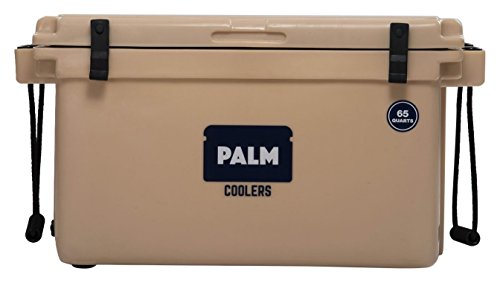 This is a Beige, heavy duty cooler that claims to keep ice for up to 7-10 days. It has stainless steel hardware, and also claims to be bear resistant, just like a Yeti. That being said, there are many conflicting opinions out there on this cooler. Some quite like it, some think that it leaves a lot to be desired. It's not the cheapest cooler on the list, which probably means it's smarter to invest in something else. Let's take a look at the pros and cons anyway:
Pros
Keeps ice for days, although not quite as long as claimed by the company for most
Cons
Poor fit and finish – warps easier than others on the list
Prone to leaking in many cases, can make it difficult to transport in a car
Heavier than a Yeti
Won't keep ice as long as a Yeti
Although this Palm cooler performs OK for some, it is obviously not as cost effective or worth the price as the other coolers on the list. Some people do like it, but you can't guarantee that it's going to be a good buy for you. It's probably much safer to purchase one of the coolers with majority 5* reviews for a similar, if not cheaper price. You might get lucky with this cooler, but we can't guarantee it.
Conclusion – Which of these Coolers is Similar To Yeti and Worth Your Money?
All of the coolers on this list have good points, however, the clear winner is the Vibe Element 45Q Cooler, without a doubt. Anybody who buys this cooler struggles to find bad things to say about it, and at half the price of a Yeti, you really cannot complain for the quality and ice retention you get. It's well built, looks great, and a brilliant cooler for just about any activity, whether you're fishing or camping. Many people compare it to the Yeti, and we believe that it's just as good. You won't find a better cooler to spend your money on for under $200!
The Igloo Super Tough STX Sportsman Cooler is our chosen runner up. It's still a great cooler, and still has great features, although it is not quite as robust and high quality as the Vibe Element. However, the Igloo tends to be cheaper, so if you really need to scrimp and save, it could still work for you as a great, sturdy, all round cooler for any purpose.
The Palm Coolers PC 65 claims to be like Yeti, but doesn't quite match up to the other coolers on the list. It can keep ice for a good few days, however, it's heavier than Yeti, prone to leaking, and can warp easily depending on what you do with it. It doesn't really give you value for money for the performance, although some people who use it do say that they like it.
This could be an OK cooler for those who don't plan on camping/fishing/barbecuing very often, and just want something simple to use. That being said given that the whole point of these 3 reviews is to establish value for money via alternatives you could probably buy something that performs better for a cheaper price still.
If you're serious about buying a great cooler, then the Vibe Element 45Q Cooler is a wonderful choice for less than $200!