There are tents for a number of different purposes. You may need one when you're going backpacking or one that's large enough for your whole family to sleep in. Another type of tent that can come in handy is a baby beach tent. These are tents that you take to the beach with you, so your child can hang out by the water without having to worry about getting sunburned or being exposed to lots of bugs or wind.
When you're looking for the right one for your child, you can get a model that is especially made for someone their size, or one that is large enough for other kids and adults to use at the same time. Here are the best beach tents in both sizes.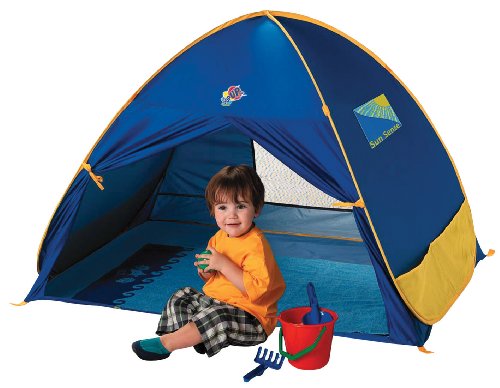 This tent is the perfect size for a baby or small child, where they can play in it, relax, or take a nap. You can even close it up entirely because it has a Velcro door for privacy. However, when the tent is opened, there's unlimited room for sticking your legs and feet out of the door. This means you can use it to breast feed or others can sit with a baby inside it if they need to. This also has UV protection and is easy to set up.
Pros
Has high UV protection
Comes with carrying case
Can use inside or outside
Easy to set up
Waterproof
Cons
The air flow isn't great with this one but if you have the door open, you can at least get some wind if you're near the beach. The item is also waterproof and can be used virtually anywhere, so it's a cool item to have to keep young babies safe from the sun.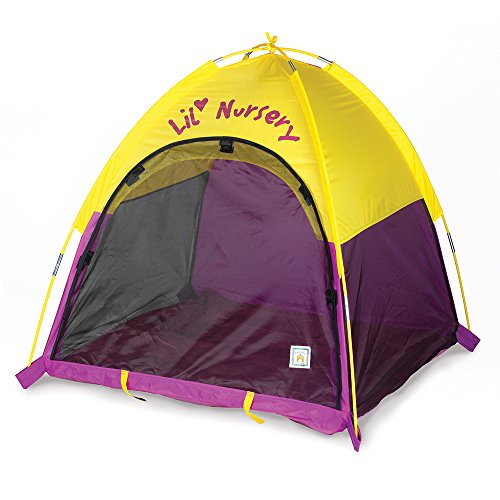 This tent comes in many different colors, so you can customize it to the gender of your child. It has mesh panels on both sides, so you're able to move air through it. It also has a roll up door, in case you want to open it up. Since it's made from heavy duty material, it's also easy to clean if you need to, in the case of an accident.
Pros
Cleans up easy
Comes in many colors
Has mesh panels for air flow
Flame retardant
Cons
May need to be weighted down
Since this one is designed just for a baby, it may need to be weighted down so the wind doesn't blow it. However, you can place your cooler or diaper bag in it, so that it stays in place. There is also a little bit of padding on the floor of this tent, which makes it a great place for baby to take a nap.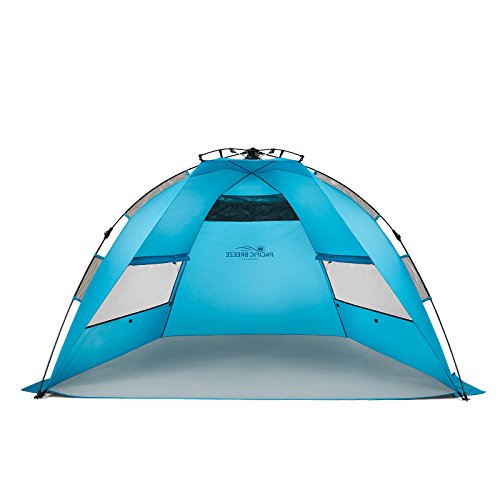 This tent is a little bit larger, so you can sit with your baby, or all your children can sit together in the shade and use it. It's lightweight and has an open design that makes it quite roomy for more than one person to use. It doesn't have a door and it is easy to set up. Additionally, it has pockets for storing important items, like sunscreen or books.
Pros
Open design makes it roomy
Lightweight
Big enough for babies and older children
Easy to set up
Has pockets for storage
Cons
Could be cramped for adults
There is some argument on if two adults can sit comfortably in this side by side. However, it is a great size for babies and children to enjoy, when they are lying around, trying to read a book, or watch a movie. It can even be used by the pool or in the backyard, but is not really ideal for camping.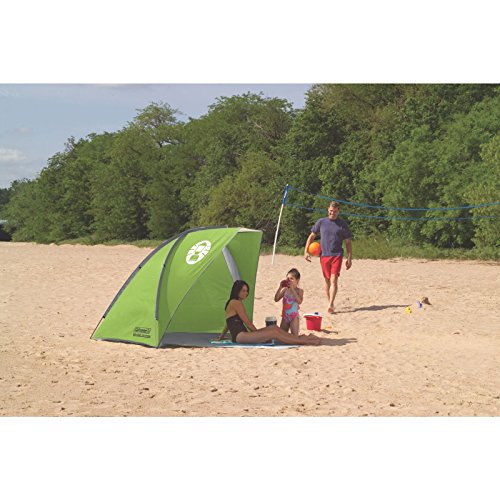 This is also a family size shelter that has an open design. One difference is that the tent can be closed off for privacy. This means it doubles as a changing room. There are numerous storage areas and heavy duty zippers on the doors. Besides that, the unit is able to fold up rather small and has room for a whole family.
Pros
Has zippered doors
Comes with 4 storage pockets
Lots of room
Folds up small
Comes with numerous sandbags
Can also use as a changing room
Cons
Sandbags may not be heavy enough to keep it from moving around
This model has 6 sandbags that come with it that are designed to weigh it down. However, that may not be enough to keep it from moving around. Try to weigh it down on the sides with your belongings or yourself to make sure it's secure in windy weather.
Which is the Best Baby Beach Tent For This Summer?
All of these beach tents are great for the baby, but some are also great for the whole family to relax in. If you're only worried about your little one, the Schylling Infant UV Playshade is the best one, especially because it protects from UV rays and is easy to assemble and use. It is also big enough for mom to go inside to breastfeed or change diapers.
The Pacific Play Tents Lil Nursery Tent is a little bit bigger and is the best for airflow in the smaller tents. It comes in different colors, so you can get the color you want, and there are mesh inserts to stay cool.
The Coleman Compact Shade Shelter is the best for large families or more than one child. It can be opened up or closed for privacy, and there is enough room and storage for everyone. It also has UV protection and sandbags to even out the weight distribution.
Finally, the Pacific Breeze EasyUp Beach Tent is the easiest one to set up. It just requires extending the poles and pulling a few ropes. It is also lightweight enough to take anywhere.